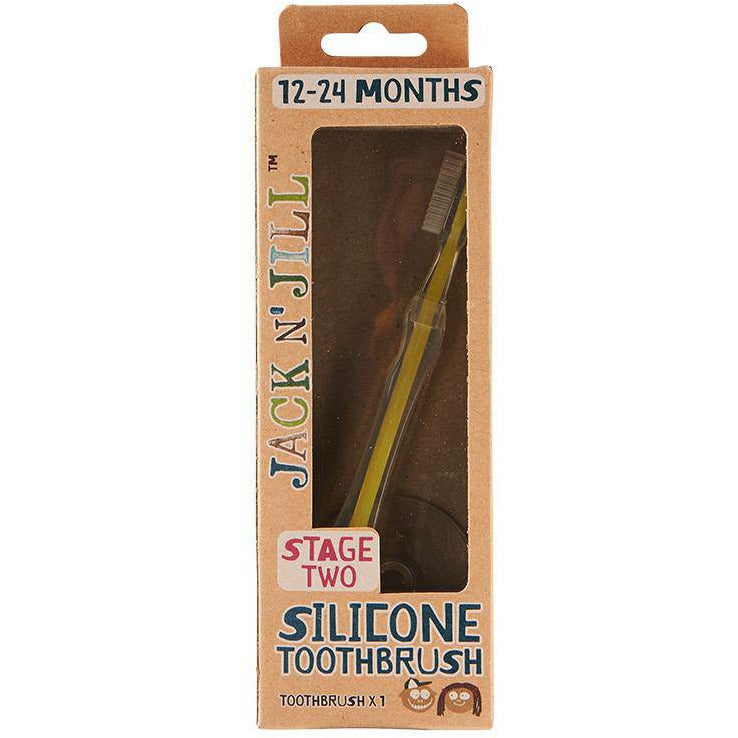 Jack and Jill Kids
Silicone Toothbrush 12-24m
$8.99 $8.99
WHY IT'S SO AMAZING!
Silicone Toothbrush with safety shield

Soft Silicone Bristles
Gentle on tiny teeth and sensitive gums
100% Medical / Food Grade Silicone
BPA & PVC Free
Safety Shield Included
Ideal for babies/children before side/rear teeth have come through
Suitable for use with Jack N' Jill Natural Toothpaste. 
Note:
Jack N' Jill Silicone Toothbrush products are unique because they are one solid piece of medical grade silicone–right down to the bristles. The brush is designed to be used as a 'toothbrush' not a 'teether' and chewing should be avoided.

However we understand this is often difficult to avoid with young babies/children and recommend supervision at all times. If the Silicone Toothbrush is chewed the bristles may come off, but not to worry. Jack N' Jill Silicone Toothbrushes are made of inert medical grade silicone which is non-toxic, and if swallowed, can pass through the digestive system without any problems.

Always check your baby/child's toothbrush and remove any loose bristles before each use. This is easy to do when rinsing/cleaning in preparation for use.
To make sure that minimum pressure is used, it's best for the parent/guardian to brush the child's teeth with this toothbrush.